Research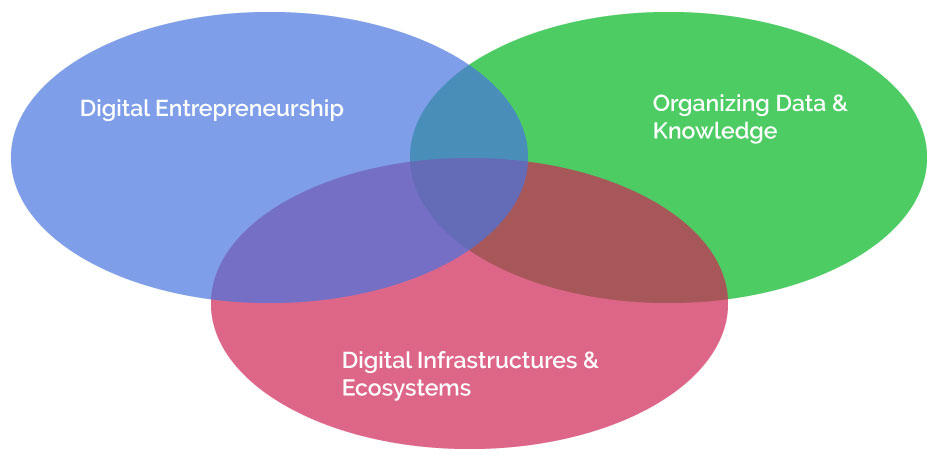 We study the interfaces between entrepreneurship, organizing data & knowledge, and digital infrastructures & ecosystems.
Projects
Entrepreneurship and Innovation with Bio Data

Towards Health Futures Community
Creating and Appropriating Value from Bio Data
(joint project with ELIXIR)

Digital Entrepreneurship @Digital Entrepreneurship Hub

Design Science Research with Digital Entrepreneurs
Business-managed and shadow IT

Educational Service Engineering for Science & Tech Entrepreneurs

Postdoc-to-Innovators Project
(with Cambridge, Paris, Glasgow, Innsbruck, Schlumberger, AstraZeneca, BP and Shell)
Freie Academic Entreprepreneurs Online Course
(funded by DFG excellence initiative; co-funded by Ernst-Reuter-Gesellschaft)
Project LEON: Introduction to Data Science Engineering
(subproject with Cedis, funded by Federal Ministry of Education and Reseach)
Entrepreneurial Network University (EXIST IV)
(funded by Federal Ministry of Economics and Energy and ESF)
BWL für Veterinärmediziner
(finished, funded by Volkswagenstiftung, KELDAT, and Cedis
Selected Publications
Rothe, Hannes; Wessel, Lauri; and Barquet, Ana Paula (2020) "Accumulating Design Knowledge: A Mechanisms-Based Approach," Journal of the Association for Information Systems: Vol. 21 : Iss. 3 , Article 1. [A]
Wessel, L., Davidson, E., Barquet, A. P., Rothe, H., Peters, O., & Megges, H. Configuration in smart service systems: A practice‐based inquiry. Information Systems Journal (ISJ), 29(6), 1256-1292, 2019. [A]
Fürstenau, D., Rothe, H. & Sandner, M. Leaving the Shadow: A Configurational Approach to Explain Post-identification Outcomes of Shadow IT Systems. Bus Inf Syst Eng (2020). [B]
Rothe, H.; Jarvenpaa, S., L.; and Penninger, A. A., How do entrepreneurial firms appropriate value in bio data infrastructures: an exploratory qualitative study. In Proceedings of the 27th European Conference on Information Systems (ECIS), 2019. Awarded by Claudio Ciborra Award for most innovate paper 2019 [B]
Rothe, H.; Täuscher, K.; and Basole, R., C., Competition between platform ecosystems: a longitudinal study of MOOC platforms. In Twenty-Sixth European Conference on Information Systems, 2018. [B]
Kooper, A.; Furstenau, D.; Zimmermann, S.; Klotz, S.; Rentrop, C.; Rothe, H.; Strahringer, S.; and Westner, M., Shadow IT and Business-Managed IT: A Conceptual Framework and Empirical Illustration. International Journal of IT/Business Alignment and Governance (IJITBAG), 9(2): 19. 2018.   [C equivalent]
Schweighofer, P.; Weitlaner, D.; Ebner, M.; and Rothe, H., Influential factors for technology-enhanced learning: professionals' views.  Journal of Research in Innovative Teaching & Learning, 2019.
Fürstenau, D.; Anisimova, D.; Masak, D.; Rothe, H.; and Schulte-Althoff, M., The Digital Platform Otto. de: A Case Study of Growth, Complexity, and Generativity. In Proceedings of the 14th International Conference on Wirtschaftsinformatik, 2019. [C]
Furstenau, D.; Rothe, H.; and Sandner, M., Shadow systems, risk, and shifting power relations in organizations. Communications of the Association for Information Systems, 41. 2017. [C]
Rothe, H.; and Steier, F., Shaping the Boundaries of a Service Ecosystem: The Case of Udacity. In Proceedings of the 50th Hawaii International Conference on System Sciences, 2017. [C]