Recap of first meeting in Amsterdam (April 6th and 7th)
The first meeting of the Research Network "Microfoundations of Institutions" was held on April 6th and 7th at the Vrije Universiteit Amsterdam, Netherlands. Its primary focus was to kick‐start our network by discussing the potency of cognitive approaches to develop microfoundations of institutions. Fifteen researchers from Germany, Austria, Switzerland and the Netherlands participated in workshop and explored ways to develop the cognitive perspective on the microfoundations of institutions.Stine Grodal (Boston University) and Joep Cornelissen (Erasmus University Rotterdam) provided fascinating key note speeches.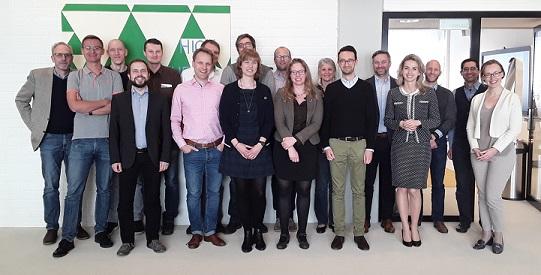 Group photo at the first meeting of our network in Amsterdam!
As organizers, one key learning from the Amsterdam meeting was that the interdisciplinarity of our network is reflected in different understandings and assumptions about what microfoundations are and how they advance theorizing. Accordingly, through discussions at and after the Amsterdam meeting, we also realized how members of our network considered different ontologies and epistemologies relevant for developing microfoundations. Recent publications echo this richness that we began discovering at our network meeting and that we have sought to map more systematically ever since. In particular, leveraging the classical "bath tub" model (Thornton et al. 2012) is one but not the exclusive approach to building microfoundations. Other approaches call into question the assumptions that undergird the "bath tub" (Cardinale 2017) or advocate the use of entirely relational ontologies to build microfoundations (Smets et al. 2017). Last, a relatively recent discussion has also begun to attend to "macrofoundations" thus orienting itself at a different, yet complementary way of thinking.
Outlook to the Berlin meeting (October 2017)
With our second meeting taking place in October 2017 at the Freie Universität Berlin, we would like to leverage these promising intellectual dynamics in both our network and recent literature. Therefore, we plan to devote sufficient time to critically reflect on classical microfoundational models like the "bath tub" and to rethink whether and in which areas they can advance institutional theory. Particular attention will also be paid to discussing these classical models vis‐á‐vis more recent propositions such as use of relational ontologies. Not only are they aligned with the emphasis of our meeting on the "behavioral" perspective, our key note speakers Michael Smets (Oxford) and Ola Henfridsson (Warwick) will also be perfect discussion partners to address these questions.
If you are interested in attending this meeting, please get in touch!
We are looking forward to seeing you in Berlin!