Chair of International Public Economics
News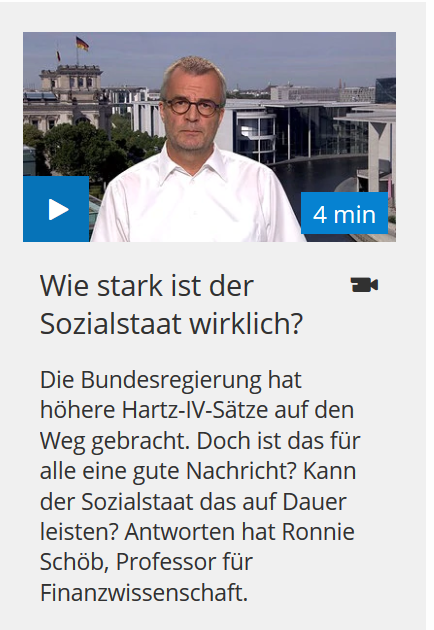 In a recent TV interview Ronnie Schöb presented proposal from his new book ("Der starke Sozialstaat") and commented on the recent increase of unemployment benefits. The video can be found here.
"Der starke Sozialstaat": New book by Ronnie Schöb
In his new book "Der starke Sozialstaat" Ronnie Schöb discusses the German social welfare system and argues that significant changes in the are necessary to prepare the welfare state for future challenges. He proposes reforms and discusses challenges that arise from economic crises. Further information can be found here (in German).
Globalization, Time-Preferences, and Populist Voting: New working paper by Ronnie Schöb
Ronnie Schöb, Thomas Aronsson and Clemens Hetschko investigate the relationship between individual attitudes towards globalization and impatience. Using rich data from the UK and Germany, they provide evidence that impatient individuals tend to elect parties that oppose further globalization. The authors also find that impatience had a significant impact on the outcome of the UK Brexit-referendum. The working paper can be found on the cesifo network's website.
Office hours during the Summer Semester 2020
Please be advised that the Chair of International Public Economics' office will not maintain its regular office hours during the Summer Semester 2020. The Chair may be reached by phone (030/838-51244, Monday thru Thursday from 9 to 12 am) or by email to ls-schoeb@wiwiss.fu-berlin.de.
Eine neue solidarische Grundsicherung: A new policy proposal by Ronnie Schöb has been published in Perspektiven der Wirtschaftspolitik
Ronnie Schöb identifies weaknesses of the dated Hartz reforms. These weaknesses notably occur in the intersections of its different instruments. Thus, he proposes a new solidary basic security system. Three columns characterize the new system. (1) A taxable guaranteed child allowance, that supports families more strongly than before, (2) a security for housing requirements and (3) a security proportionate to the needs of the employed. The benefits of the new basic security system are interlinked in a way that the problems in the intersections do not arise any loger. Yet, compared to before the incentives for self-help are increased substancially.
The paper can be accessed here: Perspektiven der Wirtschaftspolitik.
Study by Clemens Hetschko and Adrian Chadi: "How Job Changes Affect People's Lives - Evidence from Subjective Well-being Data" accepted for publication
Working life determines subjective well-being on an essential level. This becomes most obvious by means of the extraordinary misery of the unemployed, since hardly any other life event worsens well-being as dramatically. Despite the existence of numerous studies on the single circumstances of employment, much less is known about the life satisfaction consequences of changing jobs. A new study by Clemens Hetschko and Adrian Chadi, which has recently been accepted by the British Journal of Industrial Relations  for publication, attempts to fill this gap.
In "How Job Changes Affect People's Lives - Evidence from Subjective Well-being Data", the authors find that job mobility turns out to be harmful for satisfaction based on German Socio-Economic Panel Study (SOEP) data.
This study complements research on the well-being impact of labour mobility, suggesting some positive welfare effects of flexible labour markets, but also a previously undocumented potential for negative implications