Chair of International Public Economics
News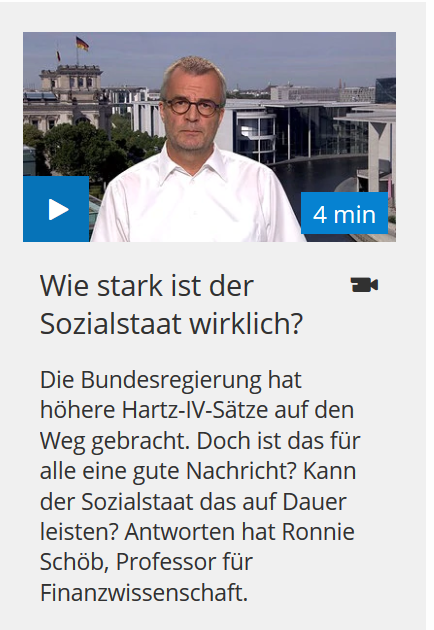 In a recent TV interview Ronnie Schöb presented proposals from his new book ("Der starke Sozialstaat") and commented on the recent increase of unemployment benefits. The video can be found here.
"Der starke Sozialstaat": New book by Ronnie Schöb
In his new book "Der starke Sozialstaat" Ronnie Schöb discusses the German social welfare system and argues that significant changes in the are necessary to prepare the welfare state for future challenges. He proposes reforms and discusses challenges that arise from economic crises. Further information can be found here (in German).
Globalization, Time-Preferences, and Populist Voting: New working paper by Ronnie Schöb
Ronnie Schöb, Thomas Aronsson and Clemens Hetschko investigate the relationship between individual attitudes towards globalization and impatience. Using rich data from the UK and Germany, they provide evidence that impatient individuals tend to elect parties that oppose further globalization. The authors also find that impatience had a significant impact on the outcome of the UK Brexit-referendum. The working paper can be found on the cesifo network's website.
A summary of the main findings and results can be found on Ökonomenstimme.org (in German).