Organization and Society: Profile of Business Studies at Freie Universität Berlin
Today, business studies' traditional focus on firms in markets is no longer sufficient. Firms are developing new network type structures, are often project-based and globalized, that connect to market uncertainties in new ways. Furthermore, classic business firms co-exist with other alternative forms of organization in civil society, labour unions, or the public sector. Even more importantly, organizations are not only embedded in markets, but also part of society as well. Firms influence society with their creative innovations in positive ways, but sometimes also in negative ones. Conversely, organizations are shaped by societal dynamics in ways that do not necessarily obey market logic. As a result of political processes and regulation, corporations face substantial demands for social legitimacy. The impact of firms and interfirm networks on society has undoubtedly grown even further with globalization, digitalization and resulting forms of uncertainty. And in turn, societal groups have increased pressure for firms and other organizations to address a widening set of social responsibilities.
Business research and teaching at Freie Universität Berlin makes an important contribution to understanding of how organizations and society interact. Beyond the individual interests of our professors and associated researchers, Business Studies at Freie Universität Berlin is concentrated in three main cross-departmental research areas:
(1) Interorganizational relations (IOR)
(2) Corporate Governance and Accountability (CGA)
(3) Taxes (TAX)
In each of these research areas, we conduct research on the highest, internationally visible level. This is evidenced by our publications in leading international academic journals, as well as service as journal editors and editorial board members. In addition, our research projects and partnerships are supported by renowned sponsors such as the German Research Foundation, federal and state ministries and various other foundations.
Our teaching is research oriented and focused particularly in these three core areas and follows the approach customary in US business schools of being internationally oriented and interdisciplinary. In particular, we draw on the disciplines of economics, psychology, sociology and law.
(1) Inter-organizational Relations (IOR)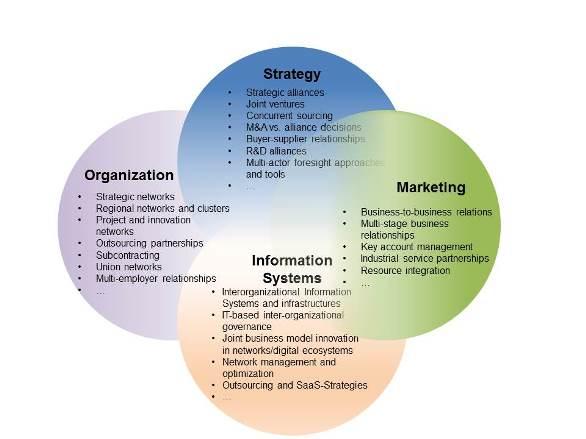 In the research area IOR, we examine relations between organizations of various types with respect to strategy, organization, marketing and information systems (see diagram). Interorganizational relations between firms are at the centre of our research. Interorganizational relations may be market-based or hierarchical in nature. Our main focus, however, lies with interorganizational relations having a cooperative quality, such as in strategic alliances and networks. The Department of Management, Department of Marketing, and Departments for Information Systems are involved in this area of research. The following publications give an impression of the themes we are concerned with:
Journal articles:
Fortwengel, J., Jackson, G (2016): Legitimizing the apprenticeship practice in a distant environment: Institutional entrepreneurship through inter-organizational networks. In: Journal of World Business 51(6): 895-909.
Gerlach, M., Cleophas, C., Kliewer, N. (2013): Airline codeshare alliances. In: Business & Information Systems Engineering 5(3): 153-163. 
Geiger, I., Lefaix-Durand, A., Saab, S., Kleinaltenkamp, M., Baxter, R., Lee, Y. (2012): The bonding effects of relationship value and switching costs in industrial buyer-seller relation­ships: an investigation into role differences. In: Industrial Marketing Management 41(1): 82-93. 
Hoetker, G., Mellewigt, T. (2009): Choice and performance of governance mechanisms: Matching alliance governance to asset type. In: Strategic Management Journal, 30(5): 1025-1044 
Macdonald, E., Kleinaltenkamp, M., Wilson, H. (2016): How business customers judge solutions: solution quality and value in use. In: Journal of Marketing 80(3): 96-120. 
Mellewigt, T., Thomas, A., Weller, I., Zajac, E. (2017): Alliance or acquisition? A mechanisms-based, policy-capturing analysis. In: Strategic Management Journal (in print). 
Sydow, J., Windeler, A., Schubert, C., Möllering, G. (2012): Organizing R&D consortia for path creation and extension: The case of semiconductor manufacturing technologies. In: Organization Studies 33 (7): 907-936. 
Sydow, J.,Windeler, A. (1998): Organizing and evaluating interfirm networks - A structurationist perspective on network management and effectiveness. In: Organization Science 9(3): 265-284.  
Wessel. L., Gersch, M., Harloff, E. (2017): Talking past each other: A discursive approach to the formation of societal-level lnformation pathologies in the context of the electronic health card in Germany. In: Business & Information Systems Engineering 59(1): 23-40. 
Textbooks:
Kleinaltenkamp, M., Plinke, W., Geiger, I. (Eds.) (2015): Business Relationship Marketing and Management – Mastering Business Markets. Gabler. Wiesbaden.  
Sydow, J., Schüßler, E., Müller-Seitz, G. (2016): Managing Inter-organizational Relations – Debates and Cases. Palgrave-Macmillan. London.
(2) Corporate Governance and Accountability (CGA)
In the research area CGA, we examine the social responsibility of firms and other organizations. In addition, we attempt to answer the question how organizational structures and/or legal frameworks can strengthen accountability and social responsibility. Corporations do not always act in ways that are beneficial for society. There are many examples for this, such as the natural disaster that British Petroleum caused through leaking oil into the Gulf of Mexico, non-compliance with building codes, the manipulation of testing software, fraudulent financial reporting, and tax avoidance practices. Firms' behaviour is not always illegal, but it is often seen as illegitimate or as not socially accepted.
At the centre of our research is corporate governance – the strategic objectives, management and control of firms and the rights and responsibilities of various stakeholder groups. This research area focuses on the concept of accountability, which entails three linked elements: (1) the provision, examination and publication of relevant information about firm behaviour, (2) the justification of this behaviour vis-à-vis various stakeholders and (3) the possibility of sanctioning by stakeholders in a given legal context. The FACTS Department and Department of Management are involved in this research area.
The following international publications provide an impression of the subjects examined in this area:
Blaufus, K., Hundsdoerfer, J., Jacob, M., Sünwoldt, M. (2016): Does Legality Matter? The Case of Tax Avoidance and Evasion. In: Journal of Economic Behavior and Organization 127: 182-206.
Bigus, J. (2015): Auditor Reputation under Different Negligence Regimes. In: Abacus 51(3): 356-378.
Helfen, M., Schüßler, E., Stevis, D. (2016): Translating European Labor Relations Practices to the United States Through Global Framework Agreements? German and Swedish Multinationals Compared. In: ILR Review 69(3): 631-655.
Jackson, G., Brammer, S., Karpoff, J., Lange, D., Zavyalova, A., Harrington, B., Partnoy, F., King, B., Deephouse, D. (2014): Grey areas: irresponsible corporations and reputational dynamics. In: Socio-Economic Review 12(1): 153-218.
Jackson, G., Rathert, N. (2017): Private governance as regulatory substitute or complement? A comparative institutional theory of CSR adoption by multinational corporations. In: Research in the Sociology of Organizations 49: 445-478.
Krauß, P., Pronobis, P., Zülch, H. (2014): Abnormal audit fees and audit quality: initial evidence from the German audit market. In: Journal of Business Economics 85(1): 45-84.
Raithel, S., Schwaiger, M., (2015): The effects of corporate reputation perceptions of the general public on shareholder value. In: Strategic Management Journal 36(6): 945-956.
Ruhnke, K., Schmidt, M (2016): Changing the institutional framework of statutory audit: Internal stakeholders' perceptions of the associated benefit and costs. In: European Accounting Review 25(1): 59-79.
Sydow, J., Frenkel, S. (2013): Labor, risk, and uncertainty in global supply networks—Exploratory insights. In: Journal of Business Logistics 34(3): 236-247.
(3) TAX
In the research area TAX, we examine questions regarding taxation. This research area relates to Freie Universität Berlin's geographical proximity to politics in the capital city of Berlin. As taxes influence individuals and households as well as firms, and are highly important from an economic perspective, the research area TAX encompasses both Business Studies and Economics. We also have links to legal scholars in areas such as constitutional law, administrative law, tax law, commercial law, corporation law and competition law.
The research questions in TAX are extremely diverse. They encompass the effects of individual, household and firm characteristics and behaviour on taxation as well as the effects of taxation law (tax rates, tax bases, tax collection, tax fairness) on individual and firm behaviour, as well as macroeconomic variables. Economics research at our faculty examines the macro perspective on taxation (particularly in cooperation with DIW Berlin), while our research in business studies focuses on the micro perspective. The methods we use reflect the diversity of our research questions and range from normative analyses at the intersection with taxation law to analytic models (e.g. business valuation), to empirical archival research, to experiments and to qualitative case study research.
The FACTS Department, Department of Management and Department of Economics are involved in this research area. Taxation-related research questions are examined in business studies related to business taxation (e.g. experimental analysis of deferred taxation, empirical analysis of business tax factor allocation), finance (e.g. business valuation and taxes, model analyses of the influence of interest rate caps on investments) corporate accounting (e.g. effects of individual taxes on capital structure), auditing (e.g. deferred taxes according to IFRS), and labour politics (e.g. the association between corporate social responsibility and tax aggressiveness). This research area is reflected in our teaching through the connection of the MSc program in FACTS with the MSc program in Public Economics, which is the only program with this focus in all of Germany.